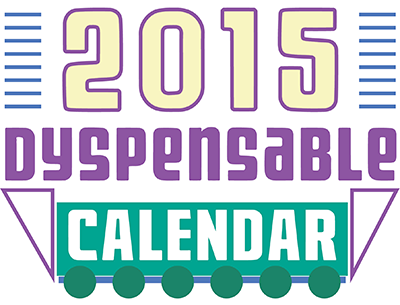 Finally
The Wait is Over
Just when it looked like there would be no Andy's Calendar for 2015.... Well, here it is. Hopefully frequent users of this fine product were not unduly confused or disoriented by the missing days, uncharted until now, retroactively. As usual, it is inexpensive and unconventional. You won't find any kittens or beefy firemen in this sucker. Get it today premade, or you can even download it and print it yourself for free.
Since 1979, Andy Deck has produced calendars annually. These limited edition publications come signed by the artist, in color, saddle stitched (stapled) using premium 11x17" partially recycled paper.


The theme of the 2015 calendar is an unmitigated bummer, but it is a colorful bummer:

• Order now for immediate delivery.

Future generations will thank you for hanging this calendar proudly.

• Print the free PDF version.
— Andy Deck