Ecomedia

Ecological Strategies in Today's Art

July 12th October 2007 – January 13rd 2008

Opening: October 11th 2007, 7 p.m.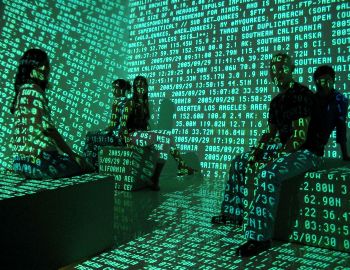 Franz John: Turing Tables. An Untitled Composition for Tectonic Spaces,
2003-2007

Ecological questions, that is to say the science that studies the relationships of living things to their environment, have lost the last remnants of naive starry-eyed idealism over the past years. Environmental catastrophes such as the tsunamis, dying forest syndrome, fish mortality, cannibalism among seals, global climate warming, water shortages, as well as air and ground pollution make it clear that natural catastrophes are not only just "natural." They result from highly civilized ways of life that are based on exploitation and which destroy well-attuned ecosystems. The idea of ecology as a communicative system has therefore gained in influence and importance.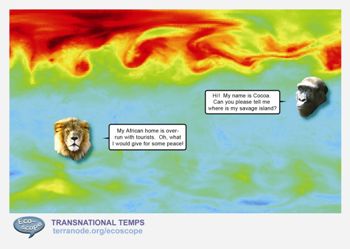 Transnational Temps: EcoScope

Artists Leva Auzina/Esther Polak (LT/NL), Critical Art Ensemble und Beatriz da Costa (USA), Free Soil (USA/DK/D), Tue Greenfort (DK), Christina Hemauer/Roman Keller (CH), infossil (D), Natalie Jeremijenko (USA), Franz John (D), Christoph Keller (D), Tea Mäkipää (FIN), Eva und Franco Mattes a.k.a. 0100101110101101.org (I), MVRDV (NL), Iñigo Manglano-Ovalle (ES), Andrea Polli (USA), Sabrina Raaf (USA), Transnational Temps (ES/F/USA), Insa Winkler (D), Yonic (CH/BR)

more

Press photos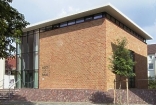 Stipend program of the Edith Russ Site for Media Art 2007

more



Friday, 23. November 2007, 9.15pm

Video Visionen
TV-Program from

Gabriel Shalom:
"Small Room Tango" (2004)
"Donny G." (2006)´

more Infos