coca-cola unity chain offers unhealthy product to poor children
Coke is it: Chain me to Corporate Globalism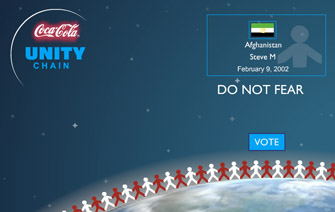 I desperately wanted to know what this Coca-Cola Unity Chain idea was all about, so I followed the link that was added to my friend's email (she works for UNICEF, a non-profit charity organization, and all her email has Coke advertising added to it without her ever getting to read it!) Anyway, I went to the Coca-Cola web site to see this Unity Chain stuff, which I suppose is some sort of public relations propaganda, but when I reach the part of their site that houses the Unity Chain info, I'm told that I need the latest version of Flash. Well, the truth is I already have the latest version of Flash and their dumb programmers just think they're so smart that they know what's best for me. But because it's this big incommunicado corporation there wasn't even an email address to complain to.

So maybe it's better to stick to independent Web stuff that lambasts the cyncial corporate culture that would have us promote unhealthy beverages in order to save poor young children.
---
Alas, I finally got "into" the Unity Chain site using another computer. Coca-Cola brags incessantly on the site about having given $25,000 to UNICEF to help children. That's nice, but given that they pay $1,000,000 for one minute of Super Bowl advertising, I'm hardly impressed with their generosity. Not to over-do political correctness, but Coke does undoubtedly contribute to an awful lot of tooth decay, so it's not clear to me why they should be treated as a friend of the poor just because they assert that it's so. As can be seen below, their ad campaigns take on a twisted quality. Can we really heal the world with feel good ad campaigns?
NEWS RELEASE
FUN GETS NEW FIZZ...
Singapore, January 26, 2002 - The truth is out. About The Ministry of Enjoyment, I mean. After keeping the public guessing for a week, Coca-Cola finally revealed that it was the mastermind behind the teaser campaign. Call it another shot in the cola wars. It did it with style at the Zouk last night. There were trapeze artistes, mime artists and a Flying Fox performance (above) to kick off the launch of the Ministry of Enjoyment in a big way. Coca-Cola is spending about $3 million on this campaign - up 40 per cent from last year's "Life Tastes Good" campaign budget. But why the Ministry of Enjoyment campaign? To grab the young generation, of course. Coca-Cola did a survey on young Singaporean consumers. And what they want, it found, is "a moment of release." We may be a sunny island, but not a sunny people by the way. The survey showed that only 66.2 per cent of young Singaporeans feel that the future always offers new possibilities, compared to 82.9 per cent of young Filipinos. The survey was conducted by Media in Mind which involved more than 200 young people in both countries. The upshot: The current campaign, to give the youngsters a sense of fun. That's the purpose of the Ministry of Enjoyment - to sanction fun. Coca-Cola is optimistic that the new campaign will go down well. Ms Karen Wong, country marketing manager of F&N Coca-Cola, said: "This year's campaign is a locally relevant interpretation of the unique challenges and joys of being a teenager in Singapore." Previous Coca-Cola campaigns were "Life Tastes Good" and "Catch The Enjoyment" which centred on the various sensations which drinking Coca-Cola evoked. And how has the Ministry of Enjoyment gone down with the public so far? Wild - judging from last night's party at Zouk. Samuel Gan, 19, said: "The party was really good and I really enjoyed myself." Not surprising, considering that the campaign is about enjoyment, after all.
Last updated Feb. 8, 2002