First Prize for Greenwashing Project
Transnational Temps entered and won the Shift Space Commission Program's competition for the best 'trail.' The Transnational Temps entry pulled together a variety of websites that address or exemplify 'greenwashing': the use of misleading PR and advertising to cleanse a corporation's image with respect to its environmental impact. In recent years, and especially after the release of An Inconvenient Truth, the public perception of global warming has changed. But the tremendous increase of feel-good PR on the part of some of the most environmentally abusive corporations on earth leads us to wonder who will hold greenwashers accountable for their deceptions.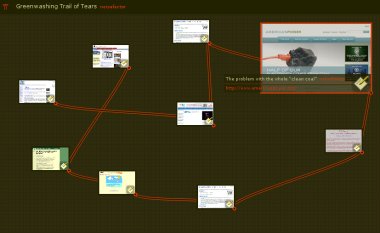 Shift Space is a browser add-on that enables its users to superimpose comments above existing websites. The 'trail' paradigm is a thematic series of pages that are part of the Shift Space network of annotated sites.
Transnational Temps would like to acknowledge the participation of several students who contributed to a class project that got the greenwashing ball rolling. Elise, Dara, Sheena and Hye Seung: thank you for helping to make the project a success.
Originally by dirtybomb from Terranode on April 8, 2008, 12:11am