Unleashed Devices at Watermans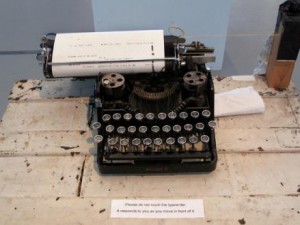 'PleAse lEa vE me alOe… Stop looing at me…'
'PleAse lEa vE me alOe… Stop looing at me…'
…an old typewriter grumpily welcomes me to 'Unleashed Devices', an interactive exhibition about programming, modifying hardware and tinkering with traditional materials at Watermans art centre in Brentford. Current issues like remixing, peer-to-peer file sharing, consumerism, the increasing control over online interactions and our actual existence in between and within all our electronic devices are interrogated. Visitors are asked to actively engage with and take control over some of the installations.
Artists Neil Mendoza and Anthony Goh extended a 90-year-old typewriter's function with a microcontroller that makes it loudly type a repertoire of phrases as soon as someone steps in front of the interactive device. The installation examines how the characteristics of our electronic devices condition the message of our texts or emails.
Activist Andy Deck's video '©-hold Control!' unveils the usually hidden ASCII graphics, drawings made out of alphabet letters, contained in shared files. In the exhibition visitors can deliberately adjust the video stream's flow with a knob as desired. On the net, however, peer-to-peer file sharing is not as free anymore, increasingly controlled either by laws or by the introduction of fees.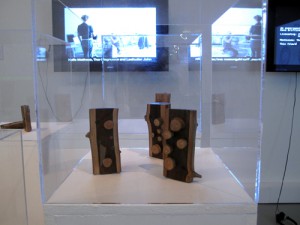 Like the typewriter, the Owl project's 'iLogs' (above) look rather vernacular in comparison to the mostly digital installations. The chopped logs are a nostalgic take on how to solve modern design issues in a craftier way. The logs are meant to question the implicit acceptance of our sleek and cold looking devices like mobile phones. However, the critique is either an ironic one or a purely aesthetic choice as the logs look natural in a way that an MP3 player can't – but are probably too big and heavy to fit our pockets.
'Unleashed Devices' offers a serious interrogation, but also is a playful and funny approach to new technologies, ranging from digitalised bacteria to a device that captures and publishes our actions in the toilet. The over 30 artists provide us with a different angle on how to use coding and DIY in a critical way. However, to fulfill their purpose these curious devices need to be activated and played with by an audience-even though off the beaten track, make your way to Brentford!
Guest blogger Katharina Hetzeneder is a design writer and illustrator, and has recently completed an MA in Design Writing Criticism at London College of Communication.
Andy Deck's © – Hold Control