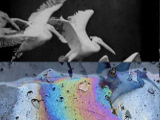 Introduction:
As media attention wanes, the impact of British Petroleum's Deep Horizon, off-shore drilling disaster continues to unfold. Artists worldwide respond to this new ecological catastrophe in a group show organized by Transnational Temps, an arts collective exploring the interstices of art, ecology and technology. For Andy Deck, one of the founding members of Transnational Temps and the curator of the show, "After a decidedly unsuccessful round of climate negotiations in Copenhagen, the disaster in the Gulf of Mexico frames this exhibition of Earth Art for the 21st Century."
Now hidden from view by BP's media campaigns and other de facto censoring actions, the images of oil-covered birds struggling to breathe and fly, oil and dispersant-coated fish, dolphins and whales washing up dead while most sink to the ocean floor, have all but vanished. Partially filling the void are the artists showing here who are recreating topographies: mapping the course of a deadly shadow over our shores and waters; and reinterpreting the sea, its rising levels and largesse, before the vicissitudes of man and nature. Transnational Temps.
———-
Spill >> Forward by Transnational Temps describes itself as an Online Exhibition. It is a website containing images and other media on the theme of oil spills. Some of the images were shown at the MediaNoche gallery from July 30 – October 10, 2010, with works added or removed so it isn't just an online catalogue of a meatspace show.
The front page of the site warns that you'll need a browser that supports HTML5 video and audio, and states that you can view it using patent-free media codecs. From a Free Software and Free Culture point of view this is excellent, your ability to view the art is not restricted by anyone else's technological or legal machinations. This is also good from an artistic point of view. The software used to view the art can be run and maintained by anyone, making it more accessible, exhibitable and archivable. But this freedom doesn't extend into the work itself. Some of the art uses proprietary software, and none is under a free Creative Commons license.
The image on the front page, or possibly the image exhibited at the entrance to the exhibition, is not advanced HTML5 video or canvas tag animation but an animated GIF. A Muybridge-ish series of still images of a pelican in flight flickers rapidly up and down as it descends behind an iridescent oil slick that solarizes the bottom half of the image. It's an effective image in itself, a visually and net.art-historically literate statement that also serves to set the stage for the rest of the show.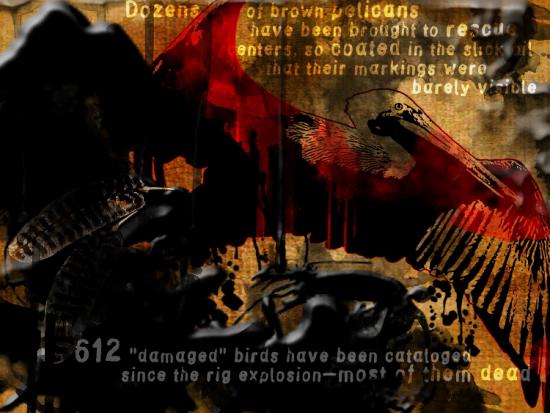 Tarred and Feathered, Russ Ritell
This is clearly a politically motivated exhibition, with the theme of the exhibited art centred on a specific historical event (the Deepwater Horizon disaster). Oil spill and petrol station imagery dominates . The resulting art varies from cooly ironic asethetics (Ubermorgen), photo and video journalism (Guillermo Hermosilla Cruzat, S.Slavick & Andrew E.Johnson, Chris Dascher, Adrián Madrid), agitprop (Eric Benson, Geoffrey Michael Krawczyk, Alyce Santoro, Russ Ritell, Terri Garland, Patrick Mathieu), photography(Jessica Eik, Sabina Antón Cardenal), painting(Jessie Mann), collage(Ume Remembers), performance art(Graham Bell), interactive multimedia (Gavin Baily, Tom Corby, Jonathan Mackenzie, Chris Basmajian, Matusa Barros, Mark Cooley), augmented reality (Mark Skwarek and Joseph Hocking) and drawing (Cristine Osuna Migueles, Adrienne Klein, Jesus Andres, Sereal Designers) to video and audio art (Irad Lee, Luke Munn, Gene Gort, Tim Geers, Gratuitous Art Films, Alex George, Collette Broeders, Fred Adam and Verónica Perales, Virginia González, Henry Gwiazda, Maria-Gracia Donoso, Jeremy Newman).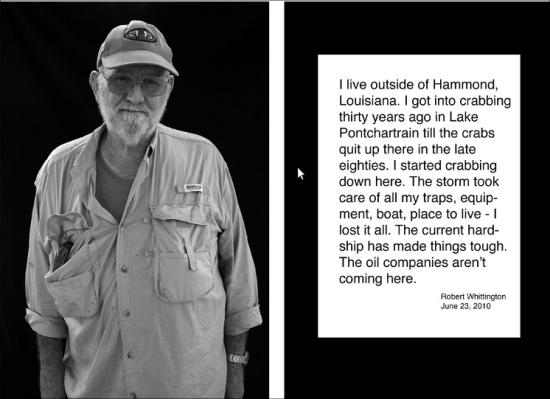 Image by Terri Garland
This is a lot to take in but the diversity of the work is a strength rather than a weakness, building a broad and visceral response to the Deepwater disaster. Verbal responses to the disaster from politicians seem unconvincingly nationalistic and corporate in comparison. It might seem hypocritical for artists to criticise the source of the energy that feeds us and allows us to make new media art. But we are trapped in that system, and we must be free to criticise it.
Politically inspired artworks have a difficult history, tending to be either bad politics or bad art. The art in Spill >> Forward is excellent, though. Some has a more direct message than others. Again the diversity of the exhibition plays a positive role here. The immediacy of the agitprop images doesn't need art historical baggage to be effective, but that immediacy provides a social context for the more contemplative or abstract works. The more contemplative or abstract works don't hammer home a simple political message but they provide an aesthetic context for the more direct images. They work very well together.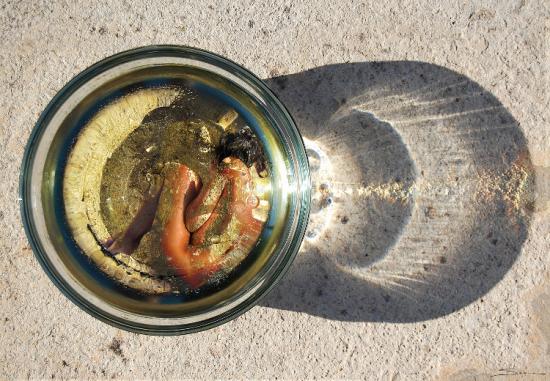 Different Densities, Sabina Anton Cardenal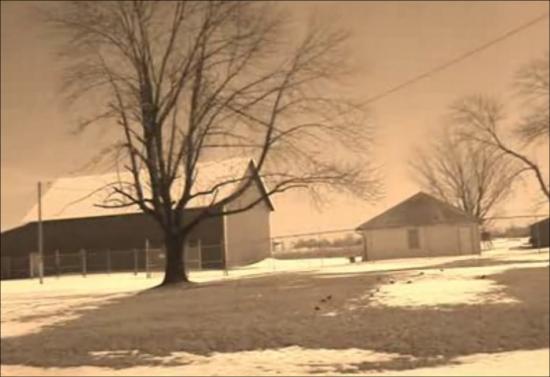 Colette Broeders' Breathe
Some of the pieces in the show are clearly illustrations or recordings of work, some are electronic media that can be played on a computer, some are clearly designed to be experienced specifically through a computer system. If you removed the political theme of the show it would still be a visually (and audially) and conceptually rich cross-section of contemporary art. I was going to write "digital art" there but the show includes painting, drawing, performance, and other analogue or offline media recorded digitally for presentation online. The celestial jukebox is hungry.
If I had to pick out just a few pieces from the show I'd say that I was struck by the sounds of Luke Munn's Deepwater Suite, by the visuals of Ubermorgen's DEEPHORIZON, by the monochrome images and text of Terri Garland's photography, by the video mash-up of Colette Broeders' Breathe and by the critical camp of Graham Bell's Radical Ecology. I think my favourite is Mark Skwarek and Joseph Hocking's "The Leak in Your Home Town", an iPhone app that uses the BP logo as an Augmented Reality marker to super-impose a 3D animation of the Deepwater leak over live video of your local BP petrol station. It is art that could only be made now, technologically, aesthetically and socially.
Reblogged from FurtherField. Article by Rob Meyers